We are pleased to present our reader with a special, quadruple issue of the "Konteksty" quarterly, which is also a catalogue to the Malinowski - Witkacy. Photography: Between Science and Art exhibition. The exhibition's main design - conceived by our editorial team - the display itself and the present special issue of "Konteksty" bring to a point several topics that our magazine has researched for at least three years.

The first of these concerns Bronisław Malinowski's Diaries . In 1997, thanks to our contacts with Malinowski's daughter, Mrs. Helena Wayne and the London School of Economics archives, we began printing Malinowski's heretofore unpublished Diaries (cf.: Konteksty No. 1-2/1997 and consecutive editions), to date only published in an abridged English-language edition ( A Diary in the Strict Sense of the Term, New York 1967 ). Our idea was to publish the complete Diary in fragments transcribed from the original in successive issues of Konteksty, in which we hoped to contribute to the publication of a complete Polish edition of Malinowski's Works , work on which has been underway for many years now.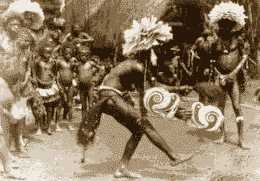 The second topic in question concerned so-called visual anthropology. For a long time now we have been paying special attention to the application of photography and film in anthropological research, the anthropological dimensions of film and photography and their links to ethnography (cf.: Konteksty No. 3-4/1992 and No. 3-4/1997).

The third topic concerns the status of ethnography - an issue which has for some time now been the subject of heated debates in the anthropological milieu. In result of these discussions ethnography is increasingly often branded a "hybrid discipline" (James Clifford) - a cross between science and art, an entity existing somewhere between science, art and literature. The extreme version of this view is that ethnography is neither science nor art but always an "in-between" discipline.

All the above topics are brought together in our exhibition's title: Bronisław Malinowski (his photographs taken during ethnographical trips to the Trobriand Islands), Photography (Ethnography) and "between science and art".

There is one more topic, heretofore not discussed in depth - but no less complex: the artist Stanisław Ignacy Witkiewicz (Witkacy) and his unconventional approach to, and application of, photography as a clearly-defined experiment constituting a part of his diversified creative activity. Interesting here are Witkiewicz's fascination with photography, the role of photography in his artistic experience, the shift of photography towards the opposite pole, and photography as an art.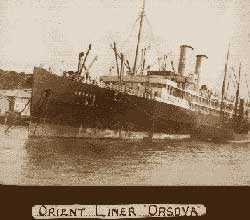 It so happens that these issues as well as the photographic work carried out by both of our exhibition's heroes, their youthful friendship, their journey together to Australia - where Witkiewicz was to photograph and draw whatever Malinowski turned up during his research - the sudden and dramatic breakup of their friendship, their parting, enhanced by news of the outbreak of the first world war, finally the impact their friendship and journey to the tropics had for their work - have been (and continue to be) described in rich detail - and frequently as a separate entity: on the one hand by anthropologists, on the other by historians, literature and art critics and Witkiewicz scholars.

Witkiewicz's photographs have been published in many professional album collections and shown at photo exhibitions worldwide. Likewise Malinowski's "ethnographic"photographs that were part of his classical anthropological works. Malinowski's pictures usually function - and are displayed - on their own, as in Malinowski's Kirwina. Fieldwork photography 1915-1918, an album of heretofore unpublished Malinowski photographs provided by the London School of Economics archives, authored by the ardent Malinowski biographer and scholar professor Michael Young. Witkiewicz's and Malinowski's photographs function on their own: Witkiewicz's as art, Malinowski's as science.

The main idea behind our exhibition and this unconventional catalogue - which is rather a book of anthropological text (mainly comprehensible only to anthropologists) and "Witkacy" texts (known chiefly to Witkiewicz specialists, historians and art critics), was to bring the two together in one volume and at one display.

This might at first seem an usurpation - if not for the fact that such a meeting of the two could considerably refres hour approach to photography, science and art. And if so, then the sphere of that which is "between" may show itself as a reality much more complex, deeper and more problematic than the simple division into science and art to which we have become accustomed.

Our aim also was to approach and portray two outstanding personalities - the scholar and the artist. Both eminent men - Malinowski, the scientist, who founded and became a classic of today's culture anthropology and Witkiewicz, artist, painter, writer, dramatist and philosopher - were natives of Galicia. Two outstanding men whose lives were tied to Zakopane and Cracow and who left their mark on 20 -Century science and art.

The project would not have been possible without the kind help we received from so many quarters. I therefore wish to express my sincere thanks (also expressed separately elsewhere) to the members of the Honorary Committee that took patronage over the event and all institutions and persons who supported us and contributed to our success. I also wish to extend my particular gratitude to two women without whose assistance, knowledge and commitment this exhibition would never have achieved its form and dimensions - Mrs. Zofia Gołubiew, Director of Cracow's National Museum and Mrs. Helena Wayne (Malinowska).

Without Mrs. Gołubiew's support of our project, her help in its development, her personal authority, the authority of the institution she heads and the professional competence of her staff - with whom we had the pleasure to cooperate - we could never have even dreamt of organising this (probably first-ever) exhibition of almost all of Witkiewicz's exotic photographs, his Australian landscapes, that are to be found in museums and private collections in Poland - certainly not alongside Malinowski's photographs.

I especially wish to thank Mrs. Helena Wayne (Malinowska) for providing us with photographs and documents from her family archives - private photographs of biographical import that gave the exhibition a personal note.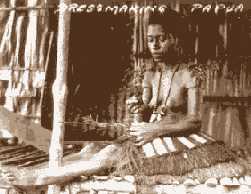 One can view the displayed photographs through the prism of traditional divisions into scientific and artistic photography (Malinowski's documenting his ethnographic work, Witkiewicz's experimental and searching for artistic form, his portraits something like a painter's sketchbook), analysing differences between "backgrounds" and "foregrounds", between Europe and tropical Asia, between the faces of Europeans and Asian "savages", between a scientist's photographs and those taken by an artist, between science and art as such. But one can also look at them in a different way.
Their private, biographical content carries the same strength that James Clifford described when writing about the role of photography in anthropology: "You're there because I (the photographer, neither scientist nor artist) was there"

Such emotions usually accompany the perusal of private, "family" photos - and such is the atmosphere surrounding the photographs at the exhibition.
To be there, photographically "in-between" - and perhaps "beyond" - science and art,to view the faces of men, women and children from the Trobriands, Australia, England, Tirol, Zakopane and Cracow, the faces of Bronio, Staś, Elsie and Marnie - is to see and discover the anthropological sense and dimension of photographic testimony and the anthropological dimension of the human condition: individual existence and unity in diversity.