Issue 1999/4 (247) - Konteksty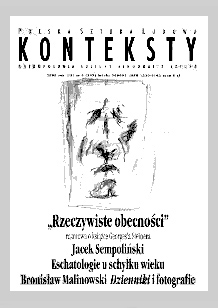 Zbigniew Benedyktowicz, Michał Bristiger, Dariusz Czaja, Marcin Gmys, Wiesław Juszczak, Zygmumt Kubiak, Paweł Kłoczkowski, Piotr Kłoczkowski, Jacek Sempoliński, Sławomir Sikora, Lech Trzcionkowski
A discussiion on "Real Presences" by George Steiner
On Steiner
Michał P. Markowski
Real Desires
Paweł Kłoczowski
The Proper Order of Things
Dariusz Czaja
His Master`s Voice? On music according to Steiner
***
Mirosław Filipowicz
Otto Klemperer. On the Margin of th Book by Peter Heyworth
Heide Klinkhammer
The Magic of Architecture translated by Monika Pleszyńska
Philip Sherrard
The Body, Beauty and Sexuallity translated by Katarzyna Kuszyńska
Jacek Semipoliński
Aleksandra Melbechowska-Luty
The Spirit of Human Labour On the Works of Jacek Sempoliński
***
Tomasz Sikora
Oskar Goldberg in memoriam
Oskar Goldberg
People = Gods = Worlds translated by Tomasz Sikora
Borys Uspienski
The perception of History in Old Rus` and The Doctrine of "Moscovy as the Third Rome" translated by Boris Żyłko
"There will be no other end of the World". Eschatologies of the Turn of Millennia (conference materials)
Wiesław Juszczak
Some Remarks on Satiricon by Fellini
Dariusz Czaja
Lessons of Darkness. Two Views of the Apocalypse
Wiesław Szpilka
TheProblem of the Year 2000
***
Jan Gondowicz
The Most Beautiful Tale in the World. Apocalyptic Variations
Jean Starobinski
Discovery of Liberty translated by Maryna Ochab
Janusz Barański
The End of Ethnology or the Age of the Ethnology - Some Fortunetelling at the Threshold of a New Century
Henryk Jurkowski
Puppets and Masks in the Heart of the African World
Bronisław Malinowski
Bronisław Malinowski
Diaries 1914-1918.